---
WELLINGTON DOG PARK in Wellington
https://bit.ly/wellingtondogpark
The Wellington Park features a large fenced in, off-leash area separated into sections for small, medium, and large breed dogs. Facilities on the site include:
Bathrooms
Pavilions for Shade
Walking Paths
Wash Stations
Waste Disposal Stations Located Throughout the Parks
Water Fountains for Dogs and Owners
Also available on site are 2 beach volleyball courts, and a swing set and play structure.
---
CINQUEZ in Jupiter
13-acre park
On-street parking
Restrooms
Sidewalk paths throughout the park and around the lake
Picnic tables
Bike racks
Dog Park

Separate fenced dog run areas for small dogs (=30 lbs) and large dogs (>30 lbs)
Covered and shaded benches throughout Dog Park
Dog Washing Station
---
BRK REPUBLIC in West Palm Beach
BRK Republic is where dogs rule! It's a unique combination of an off-leash Park and social Drinkery combined into one to bring both fur friends and humans together. Our concept is all about the dogs, with everything from the play area, wash stations, doggie treats, and more! and to ensure a safe and controlled environment for our fur friends, we require our doggy patrons to have a membership, this helps us ensure that all of our pups are healthy, socialized, and nonaggressive. Our park boasts over 2,400 square feet of fenced off-leash fun and is designed with artificial turf for a cleaner and more comfortable play surface. The off-leash area will have a Park supervisor, known as a "Woofere" Enduring peak times to ensure that all our members have a safe, fun experience.
---
LAKE WOOF DOG PARK in Lake Worth
https://wpbparks.com/dog-parks-west-palm-beach/lake-woof-dog-park/
Recently opened in July 2017 and one of the best park in Palm Beach County, Lake Woof Park is visible from 6th Avenue South in Lake Worth but you need to enter through John Prince Park's entrance to access the dog park. Lake Worth pet owners now have a closer location to take their dog to an off-leash park for beneficial exercise and dog socialization.
Lake Woof Dog Park has 5 separate dog areas each clearly marked for small, medium and large dogs. A couple of areas are closed and will be used on a rotation basis.
In each of the areas you can walk on the smooth paved path with gazebos in the center, benches and water fountains. In each fenced area the public can purchase a memorial brick and have their pet's name engraved in memory of a pet's passing.
Amenities include:
• 1 small dog area
• 1 medium dog area
• 1 large dog area
• 2 extra areas used on rotation basis
• 5 gazebos with benches
• pet waste station
• drinking fountains for people and pet
• pet washing station
• restrooms
• parking
---
LAKE IDA PARK, in Delray Beach
https://discover.pbcgov.org/parks/Locations/Lake-Ida-West.aspx
Features
2 large dog sections (one open at a time on rotation basis for rest and maintenance)
1 small dog section
Double gated entry
Paved dog wash station
Fido fountain
Dog bag dispensers
Covered trash cans
Restrooms
Parking
Benches
Nearby parking
---
POOCH PINES, in West Palm Beach
https://www.yelp.com/biz/pooch-pines-dog-park-west-palm-beach
---
LILAC, in Palm Beach Gardens
https://www.pbgfl.com/Facilities/Facility/Details/Lilac-Park-9
---
MADDOCK DOG PARK, in Lantana
https://www.lantana.org/lantana-maddock-park
The park is divided into two (2) areas. The first area is for larger dogs 30 pounds or greater. The second area is for smaller dogs 29 pounds or less. There are rules and regulations governing the use of the dog park. All dogs must vaccinated and display current licenses. Dogs at all times must be under voice command of their owners. Any dog or dogs that show the first sign of aggression must be immediately removed from the park. All rules and regulations are posted at the entrance to the park. 
---
CANINE COVE, in Boca Raton
https://discover.pbcgov.org/parks/Amenities/Dog-Parks.aspx
2 large dog sections (one open at a time on rotation basis for rest and maintenance)
1 medium dog section
1 small dog section
4 gazebos
Drinking fountains with pet fountains attached
Shaded benches
Dogipot Pet Stations with plastic bags and waste receptacles
Pet washing station (large enough to accommodate 2 dogs)
Nearby parking
---
MIZNER BARK, in Boca Raton
https://myboca.us/952/Dog-Park-Mizner-Bark
---
HOWARD PARK, in West Palm Beach
https://wpbparks.com/west-palm-beach-parks/howard-park/
---
CROWDER – BOYNTON VILLAGE, in Boynton Beach
https://www.petjunction411.com/listing/boynton-village-park-and-dog-park/
---
VILLAGE PAWS, in West Palm Beach
https://wpbparks.com/dog-parks-west-palm-beach/village-paws-dog-park/
Village Paws Park is across the street from the Saratoga Bay community and was placed there to benefit the many dog lovers in the area. It consists of three separate fenced-in areas to accommodate small and large dogs. Each area offers similar amenities which include double-gated entry, doggie water fountain, poop disposal/clean-up bags, covered benches and trash can. The first area also include a doggie tunnel for fun playtime. There are no restrooms and no parking at this location. Good size and well maintained with regular pesticides to control fleas and ticks. Several shade trees available throughout.
---
JUPITER DOG BEACH, in Jupiter
https://www.jupiter.fl.us/437/Dogs-on-the-Beach
We are proud to say that Jupiter is home to one of the few remaining dog-friendly beaches in the state of Florida.  In 1989, Jupiter's Town Council adopted a policy to allow dogs on Jupiter's beaches.  In the time since then, the dog-friendly beach areas have been defined as a 2.5 mile stretch of beach from beach marker #25 at Marcinski Road going north to beach marker #57 (at the Carlin Park property line). 
---
CANINE CORNER AT DREHER PARK, in West Palm Beach
https://www.petjunction411.com/listing/dreher-dog-park/
Dreher Park has a total of 113 acres. Canine Corner takes up approximately one and a half acres and is located just south of Palm Beach County Zoo.
Canine Corner is made up of two separate, but adjoining, fenced areas: one for large dogs and one for small dogs. Within this well-shaded park are covered benches, waste receptacles for each dog play area, agility equipment, as well as doggie and human water fountains. This park's landscape is not only filled with Banyan trees, but there are also numerous hills throughout.
---
MARY BRANDON, in West Palm Beach
https://wpbparks.com/dog-parks-west-palm-beach/mary-brandon-dog-park/
Amenities include:
Separate Fenced Area for small and large dogs
Play Tunnels
Chairs, Benches, Tables
Cooling Stations
Doggie Bag Station/Disposal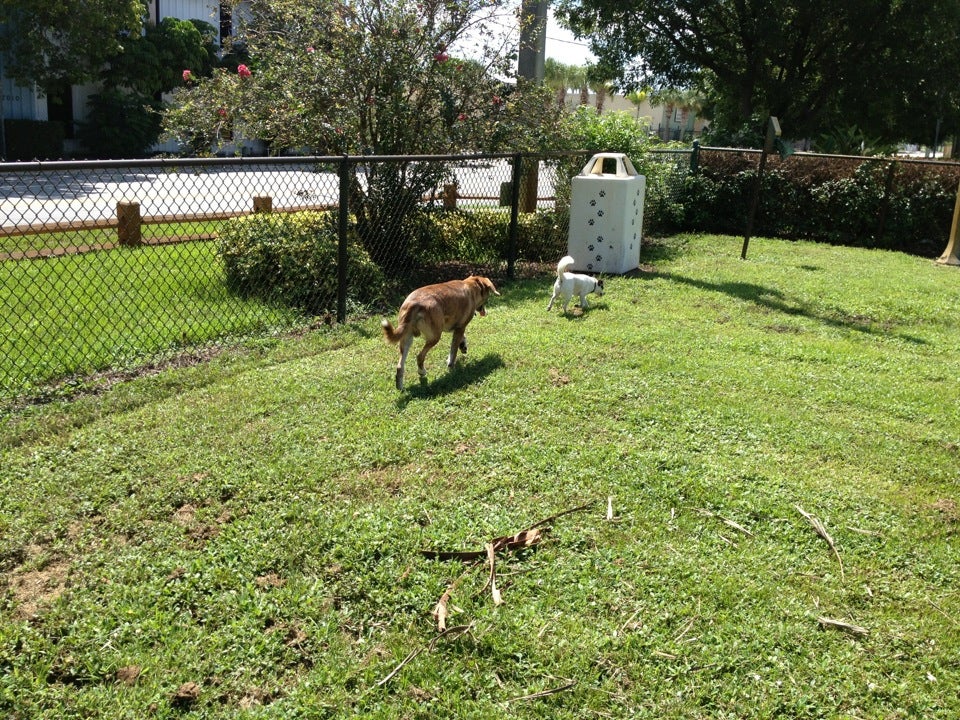 ---
BARK BEACH, in Boca Raton
http://www.patchreefpark.org/bark-beach-dog-permits
---
CITY PAWS, in West Palm Beach
http://citypaws-dog-park.edan.io/
---
F.I.N.D PARK, in Jupiter
https://www.jupiter.fl.us/facilities/facility/details/find-park-7
24 Acres
Dog Park (two fenced in areas for dogs to socialize and exercise; one large breed and one small breed)
For information on adult athletic leagues please contact Pete Doherty at 561-741-2715
For information on park maintenance and any Town of Jupiter park projects, please contact Jim Wilkinson at 561-741-2316.
---
TODD A. ROBINER PARK, in Royal Palm Beach
https://www.royalpalmbeach.com/parksites?tid_1=1091&keys=
---
Similar Posts: